Meet Merkavelli
Meet Merkavelli aka Stove Range Merk, the CEO and first artist from the Stove Range Music Group. Merkavelli has been reciting lyrics from then likes of Tupac, Snoop Dogg, UGK, and other legendary artist since he can remember.... His uncle, Shot-B, penned his first verse when he was merely 9 years and he started penning his own lyrics soon after. Merk was introduced to this music industry at the age of 13 when he and his childhood friends (C.Y.N.) began working with Derrick (Lil Derrick) Williams' Smoked Outt Records imprint which was based out of New Orleans, La. The label was soon disbanded after the untimely death of Williams and legal trouble of others behind the label.
Since then Merkavelli has released 3 projects under his Stove Range Music imprint, the latest of which is available everywhere that digital music is sold including iTunes, Google Play, and streaming services such as Spotify, Tidal, and iHeart Radio.​ Stay tuned for the official release of Compliments Of The Chef Clothing which is set for launch next summer!!!​



Powered by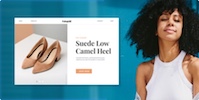 Create your own unique website with customizable templates.